Keep your outdoor items clean & dry with
protectME!
Outdoor furniture is a popular addition to many backyards however sun, rain, dirt and general wear and tear all take a heavy toll on outdoor fabrics, cushions and upholstery. Keeping items clean and dry by protecting all your outdoor cushions and fabrics will help keep them looking their best all year long. It will also increase their durability and longevity in the long run.
FAQs
Our outdoor fabric spray protects just about any fabric items, including:
Outdoor cushions
Umbrellas  
Outdoor couches and chairs  
Table cloths  
Day beds
protectME is a water based, non toxic fabric protector that is safe to use on most fabric or textile surfaces: cotton, suede, leather, synthetics, wool and silk to name a few.
Some precautions:
As some colour dyes are not colour fast, particularly fabrics that are using vegetable dyes for example, we recommend testing the surface in a small inconspicuous area for colour fastness prior to applying all over.
If you have applied another fabric protector prior to using protectME, please read our FAQs
For most standard upholstery and fabric surfaces we recommend using 3.3 fl oz of fabric protector per 10 ft2 of surface. It doesn't need to be exact, just make sure the fabric is saturated with product.
Please note saturating does not apply for leather, suede and velvet. We recommend a light spray and then gently "buffing" the product into the fibres with a soft, clean cloth. If you are spraying large areas, we recommend using our battery sprayer to ensure even application and avoid wrist fatigue.
For most outdoor fabrics will recommend a second coat of product to be applied with an additional 3.3 fl oz per 10 ft2 within 30 minutes of the first application.
One application of protectME lasts up to 30 washes! Once you have washed your item 30+ times, we recommend you reapply with protectME.
If you are unsure about the type of fabric you have or have any questions, send our friendly customer service team a message and include a photo of your fabric and we'll do our best to help you.
If you have applied another fabric protector prior to using protectME, we recommend waiting until the other protector has worn off, especially if using a mainstream stain guard such as Scotchgard or Guardsman. This is usually about 12 months after application. This is because these fabric protectors sit on top of the fabric and will prevent protectME from bonding properly. Unlike these protectors, protectME is formulated with nanotechnology and will get into the fabric, forming a much stronger and durable protective barrier that lasts up to 3 years.
As a general guide you want to protect any piece of equipment or clothing that can get wet. Rain, dew, snow; moisture is the enemy and you want to keep it away from your gear.
Tent- First and foremost your tent. It's your home away from home and you want it to be as comfortable, ie: dry, as possible. Protecting your camping tent (make sure to test it after) will help avoid having to spend a rainy night in the car. 
Boots-If you've ever spent any amount of time with slightly damp shoes you can almost imagine the agony of multi day hiking in wet hiking boots. Protecting your hiking boots is essential for a successful trip and could be the difference between finishing a trail or turning back early. Avoid disappointment by taking the time to protect your hiking boots against water and stains. 
Jacket-Chances are you didn't bring an umbrella so your jacket will be your number 1 defence against the rain. Choose a style with a hood (the fur trim is best left off to avoid a soggy embellishment around your head) and add an extra layer of protection with protectME eco-friendly water-resistant spray. 
Backpack- Protecting your hiking backpack may be the most important job of all. If your bag is soaked, chances are everything inside it are also soaked. 
Post trip equipment care is essential in ensuring your expensive gear lasts more than a single holiday. If it's been a particularly muddy adventure, brush or wash off all traces of dirt and let dry completely before storing away.
Protecting your hiking and camping equipment is quick, easy and can be the difference between a wildly fun adventure or selling all your equipment when you return home. Head over to our blog for more great reads on how a little protecting can go along way.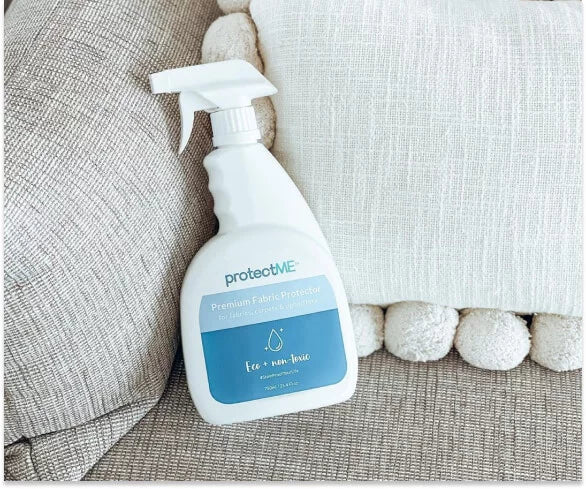 Stain proof your home
Our outdoor fabric protection spray can help you to protect against water, prevent stains and increase your items' durability all-in-one. Water based and formulated using the latest nanotechnology, protectME offers the future in high-tech liquid and stain proofing for fabric, upholstery and furniture—inside or outside.
FAQs
How To Use